#Workperks: a safari through the country of happiness
Every year, Livingstone gathers the firm together for a 3-day retreat. Hosted by one of the firm's offices, the #workperk is thoroughly Livingstonian in nature and features exciting field trips and team activities designed to bring everyone a little closer.
The annual retreat also features team recognition on a global scale, including the annual "International Player of the Year" award given to the Livingstonian who contributes to the firm's international business. The winner and a guest travel to Zambia to experience firsthand the positive impact the firm's community engagement arm, Fundación Livingstone, has had on the area while also enjoying some of the most beautiful safari drives available.
2018's winner, Elena Gonzalez, shared highlights from her trip.
It has been hard for me to come back to reality after such an overwhelming trip to such an amazing country. My first time in Africa and I have to confess I was a little nervous, but it was due of a lack of knowledge of how safe and easy the experience was going to be. I did anticipate adventure, however, and that I got!
My trip took place in late April; my friend Marja and I spent 10 days traveling throughout Zambia.  After packing our summer clothes, an oversized first-aid kit, and taking malaria pills, we embarked on our long trip.  I  enjoyed my first trip on an A380, seeing the skyscrapers of Dubai as well as the desert.
Once we landed in Lusaka, our adventure really began.  Marja and I flew on a tiny, but well-maintained aircraft; the flight attendant was incredibly kind, making passengers feel safe and welcome.  This was one of our first experiences interacting with the people of Zambia and we quickly learned everyone is welcoming and friendly, always ready to talk, ask, help, learn, and clearly enjoy meeting people from other cultures.
One of Marja's first remarks was that children don't cry in this country. We noted that they travel quietly alongside their mothers in slings.  Moreover, older kids are also very well-behaved, friendly, and quiet and respectful – as we had the chance to see later in the trip. This is very different from what we are used to in Spain.
We researched Zambia before our trip, learning about the challenges involved in accessing a proper level of education, especially in math. Typically, if a child misses school through illness or chores, they oftentimes fall behind and are unable to catch up. Fortunately, many things have changed in the areas where the Livingstone Foundation has set its sights.
Reaching our camp, known as Flatdogs Camp – (I later learned that "flatdogs" is the name given to crocodiles, which would have made me be wary, especially if I had known before that they were frequent visitors at night) – we were greeted and given our "safety instructions" by Lydia, a wonderful lady who helped us feel at home.
She instructed us, "Do not go out at night on your own.  Always call one of our guards with a torch.  Do not leave your tent's zipper open, or unlocked, or with the key in it.  Monkeys and baboons are well trained to open anything and they enjoy getting in.  Do not leave any personal belongings in the bathroom because as it is open to the exterior and monkeys will get in and have a great time with your toiletries, including their much-beloved toothpaste feast. But above anything else, beware of the bigger animals both day and night."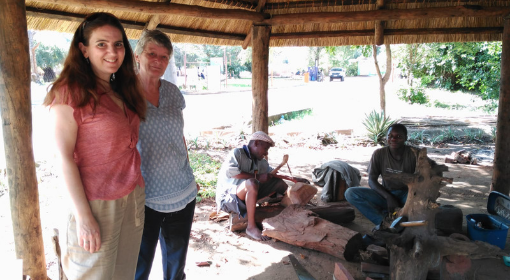 Discovering all the exuberant nature and animal life with the first light of the next day was an experience I will never forget! A huge family of hippos was swimming across from our tent, and seeing hippos for the first time so up close was impressive – although it loses some impressiveness by the third day as the hippos are everywhere along the Luangwa river. In fact, there are more hippos than river-stones.
The Luangwa is the only river in Zambia that is free of human intervention along its banks. It is full of nature with wild animals and plants everywhere, just as it was hundreds of years ago. You experience the sensation of untouched nature everywhere you go, which really has an impact on you. There were dozens of types of different birds, big and small, monkeys, elephants, hippos, and reptiles everywhere.  You do not need to go on a safari to see many of the wonderful animals present in the region unless that is you are looking to see lions, crocodiles, buffalo, leopards, zebras, and giraffes. Everything could be seen by following the guiding finger of our friend Kennedy, our ranger for the day and night safaris we did next to Flatdogs, at the South Luangwa National Park.
In addition to the spectacular nature, we really enjoyed meeting with the people that make it possible to complete the projects of the Fundación Livingstone. Karen and Dave are two British expats that moved to Luangwa many years ago and have been successful in channeling donations into amazing projects that have improved life for the children and families in the region. They let us know how grateful the communities were around the area of the Kapita School where Fundación Livingstone built the new school and library and implemented the Edulution Math program for all its students.
The Kapita School was not too far away from the camp, though the dirt roads and the potholes made the distance seem much longer than it was. The school is attended by up to 600 children in morning and evening shifts through the end of their primary education. We saw a few of the kids that live in the huts near the school, at the school playground, playing soccer using balls made of various layers of plastic bags. Fortunately, we brought some soccer balls with us so their game greatly improved.
On the way there, we discovered how the initiative to build more wells to increase water supply in the area surrounding the school had been key for hundreds of families who lived nearby and had their daily lives eased. Unfortunately, the flow of water is once again changing, causing concern about the current water supply.
We were met and shown around by Headmaster Mr. Gilbert, who was happy to get new books for the library, school material, and reward badges. We were told about the very poor levels of Zambian students in math. How this is now being tackled through the Edulution program, which provides software, installed on tablets, which is updated every now and again to teach basic math and measure and follow the children's' progress.
The program in Zambia is funded by donations, and with these, the older students (secondary or higher education) who are good at math, can tutor, teach and supervise the younger students. They get paid as the children they teach improve their test results. The implementation of Edulution in the whole of Kapita School was funded in its entirety by Livingstone.  Mr. Gilbert told us that in a short period of time, the students have gone from an average grade of 10% in math to over 50%, highlighting the success of this program. Now many more children in this area can qualify for secondary school, where math results have previously been a barrier for the children.
At the Project Luangwa office and shop, the base of Karen and Dave, we saw the way women and men were trained at different crafts; sewing, wood-carving, basketry, metal-working – all sorts of wonderful things, adapted to European taste but keeping traditional techniques. The money raised from the shop goes principally to help fund a young girls program.
During our stay, we met Mailess, a girl sponsored by Jeroen and Zulema, who became our travel companions after the third day. With them, we had the chance to travel further, to the Chikowa Trade School, and meet fathers Francisco and Luigi and their volunteer Antoine (a father too, but of another kind, as he had a one-year-old baby who was born among them), and see the wonderful educational community they have created there, which hosts over 100 students learning different trades; woodworking and cabinetry, auto mechanics, building and agriculture.
The place was the most fantastic and well-organized "Hacienda" I have ever seen, and generating its own products (both from the ground and from their workshops, which they sell into small businesses and hotels in the area) helped subsidize and sustain all the students who come to take one of the yearly courses offered by this mission. After a long walk around the facilities to see each of the classes, dining room, and computer class, I could see the greenhouses, so long, so big, and as far as my feet were concerned, so distant. But band-aids were a great help in aiding long walks around the different plantations.
Livingstone had provided the school with a number of greenhouses where lots of various species of greens, vegetables, and salad were now cultivated year round, which was not possible before. Livingstone also provided agricultural machinery to lighten the workload, and I got the chance to identify films, shade nets, thermal screens, all the things created by some of our former Southern Spanish clients.
On the sixth day, we traveled to Livingstone and visited the falls. We enjoyed the views of the roaring water of the Mosi au Tunya ("The Thunder that Roars"). We got soaked, even with rented raincoats. However, our cameras survived! The views from the top of the waterfall at dusk were the most beautiful sight I think my eyes will ever see.
Everywhere, consumption as known in Europe was kept to a minimum. No plastics, no packages, no cigarette butts, no garbage dotting the roadside. Clean and pure places, amazing sights, joy, peace, and exuberance. This country has been the source of so many new impressions and things to reflect upon. I would definitely like to come back. Meanwhile, I'm traveling again, but this time with the words and memories of Zambia, thinking about the truly positive impact that our firm has achieved in such a remote area.
Click here to learn more about our firm culture and job opportunities
STAY UP TO DATE WITH OUR
Newsletter