Livingstone hosts "lunch of knowledge"
Up-to-date on tech trends, legal, and tax matters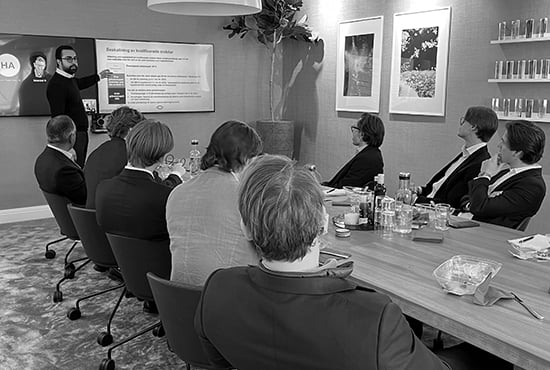 Livingstone is constantly evolving to be best-in-class advisors. As we always strive to answer all our clients' questions on tax-related aspects accurately and efficiently, the Stockholm office has invited the tax consultancy firm Unum Tax to exchange all relevant information that may arise in connection with a transaction.
Unum Tax is an independent tax consultancy based in Stockholm. It has broad experience in Swedish and international corporate and value-added tax, serving large and medium-sized companies in all industries. It also provides qualified advice to organizations, foundations, and other types of companies. Unum is also part of the global tax network Andersen Global.
Hussein Abdali, partner at Unum, gave an interesting and informative presentation on the 3:12 rule, salary basis, share exchange, internal transfers, and tax risks relating to the acquisition price, and then proceeded to answer the team's questions.
"Our goal is to clarify all tax-related issues and complement them with up-to-date knowledge. This way, we can ensure that all important aspects are fully included in our transactions."
Isac Stenborg, Partner
Previously, the team also had lunch with Monterro. Monterro is a venture capital fund that invests in tech companies and has offices in Stockholm, Oslo, and Munich. With their hands-on-growth approach, they target software companies in the Nordics. At this lunch, current challenges and opportunities for tech companies were discussed, and the advantages and disadvantages of the positioning of tech companies were evaluated. The views on change and value-driving trends in tech companies were also encouraged to be shared.
These lunches have been much appreciated by the whole team, and more of these lunches are already being planned – next time, with the topic of Sweden's loan market.
Key Contacts

STAY UP TO DATE WITH OUR
Newsletter