Livingstone secures Corporate VC investment from NGK Spark Plug for medtech innovation leader in cold-plasma technology neoplas med
jul 2022

Hälso- och sjukvård

Cross-Border Asien

Kapitalanskaffning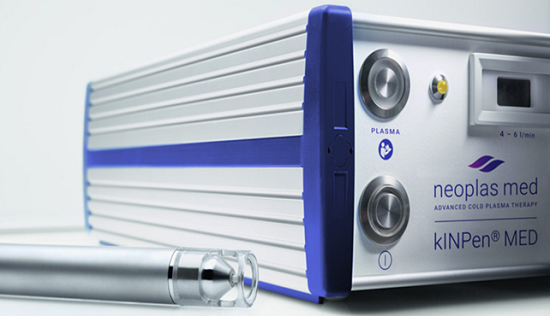 Livingstone healthcare sector team has advised neoplas med GmbH, an innovation leader for cold-plasma technology for the medical and veterinary sector, on its financing round A through Pegasus Tech Ventures, acting as Fund Manager for NGK Spark Plug Co. Ltd. ("NGK"). The Investment is part of the Innovation program carried out by NGK Venture Lab.
neoplas med GmbH was founded in 2009 as a spin-off of the Leibniz Institute for Plasma Research and Technology (INP) in Greifswald. Ulrike Sailer has been managing director since the end of 2019. The company develops innovative products for medical applications based on plasma medical research. The first milestone was the CE-certified plasma jet kINPen® MED, which is the world's first plasma jet to be approved for the treatment of chronic wounds and pathogen-related diseases of the skin and is marketed internationally. The precision technology was developed by INP as an incubator in cooperation with the University Medical Centre Greifswald, the Klinikum Karlsburg and the Charité Berlin as well as other partners from science and neoplas med with its development and production of plasma medicine products oriented on patients needs.
It is the best-studied and best-characterized device worldwide for the plasma treatment of infected and chronic wounds. The cold plasma device kINPen is the first device that works contact-free with a high and constant quality, which has been verified by two clinical RCT studies published in the prestigious JAMA Network Open and Nature Scientific Report magazines.
NGK SPARK PLUG CO., LTD., headquartered in Nagoya, Japan, is a manufacturer of ceramic products and related devices. The company is a world leader in the production of spark plugs and automotive sensors for internal combustion engines and offers a wide range of components for semiconductor production equipment, cutting tools, and industrial ceramics under the NTK brand name. A global network of sales and production organizations and over 16,000 employees ensure that value is created worldwide. The company contributes to a sustainable society by developing products for the environment, energy, next generation vehicles and medical devices and diagnostics. As a leading manufacturer, NGK SPARK PLUG delivers innovative solutions to improve our world. NGK has developed Plasma technologies in the 3 growth areas: Health, Utilities and Mobility. The company intends to grow the Health Care Plasma businesses into the market for cold plasma devices. Together with the innovative (cutting-edge) cold-plasma technology of neoplas med, NGK wants to become a major market player in the medical as well as veterinarian market. The parties are convinced to have agreed to a very fruitful strategic cooperation with significant growth potential as well as major benefits for all patients using the cold-plasma devices.
Pegasus Tech Ventures acts as the corporate venture capital fund manager for NGK. Pegasus is a global venture capital firm headquartered in Silicon Valley. Pegasus works with over 30 multinational corporations, such as NGK, to accelerate their innovation strategies by managing corporate venture capital funds on their behalf and connecting them with startups having significant strategic value, such as neoplas med.
Dirk Schapeler, President of NGK's Business Creation Division: "In the "2030 long-term Management Plan Nittoku BX", we have set out "transformation of business portfolio" to increase the ratio of non-internal combustion engine business, and as one of the measures to realize it, we are promoting the creation of new businesses in "Smart Health", "Decentralized Utilities" and "Smart Mobility" area. In that effort, in the area of "Smart Health", we are working on wound care that applies our medical plasma technology and will collaborate with neoplas med to accelerate its business development." 
Ulrike Sailer, CEO at neoplas med GmbH: "Together with Livingstone Partners we were able to find a strategic partner, who will help us to develop the applications of our cold plasma jet technology for patient needs and to enter new foreign markets. I would like to thank Livingstone and Dr. Jörn-Christian Schulze and Severin Steffens from Arqis Rechtsanwälte, as well as all other parties involved for the smooth and successful process." 
Dr. Ralf Nowak, Managing Director at Livingstone in Düsseldorf: "We are very pleased to have found the best fitting strategic partner for neoplas med. neoplas med´s innovative power and the proven cold-plasma technology combined with NGK's excellent Plasma and Health Care expertise and the large international NGK network will foster this success story."
The parties agreed upon not to disclose the terms of the transaction.
Håll dig uppdaterad
Missa inga affärer eller analyser