All eyes on eyewear – a highly attractive vertical for investors
Covid-19 and resulting retail lockdowns in response to it have caused many investors to take a more cautious approach to consumer goods. However, the eyewear industry is an excellent example that investors should look at each consumer vertical separately to understand the underlying market dynamics.
The resilience of the sector and healthy, positive macro-outlook allowed Livingstone eyewear client Inspecs Plc to successfully IPO before the first lockdown and successfully finance the acquisition of leading German eyewear group Eschenbach by raising close to EUR 95 million in equity and debt. 
The transaction made Inspecs Plc the sixth largest eyewear group globally – a move made amid the global pandemic.
Working side-by-side with Inspecs nominated UK stock market advisor on this project; we witnessed first-hand that institutional investors are in particular attracted to the sector for the following reasons:
An aging population with progressing correction needs and eye diseases has a growing need for vision aids – not only frames and lenses but also readers, magnifiers, and protective glasses. This is a market segment in which, for instance, Eschenbach is particularly strong. According to German market research firm GfK, eyewear sales quickly re-bounced after the first lockdown in spring 2020 due to the underlying medical needs, which frequently cannot be put off by consumers. Furthermore, in various countries, opticians are considered essential service providers and were allowed to stay open during various lockdowns. 
Among younger demographics, regular spectacles and sunglasses have become a key fashion accessory. Accordingly, there is a growing tendency to replace glasses faster, own more than one pair, and buy more expensive brands.
Technological innovation in lenses and frames drives additional market growth. Examples include polarization of lenses and the use of lightweight, indestructible, and eco-friendly materials for frames. Going forward, the mass customization and personalization of frames is expected to become another critical innovation driver as 3D printers are becoming more and more affordable. Particularly, in Asian markets, this technology advancement is expected to have a substantial impact as consumer needs regarding fit and eyewear design differ from the western standards.
All of this has helped to drive the valuations of listed eyewear and eyecare makers and retailers as the development of Livingstone's global eyewear and eyecare index1 shows: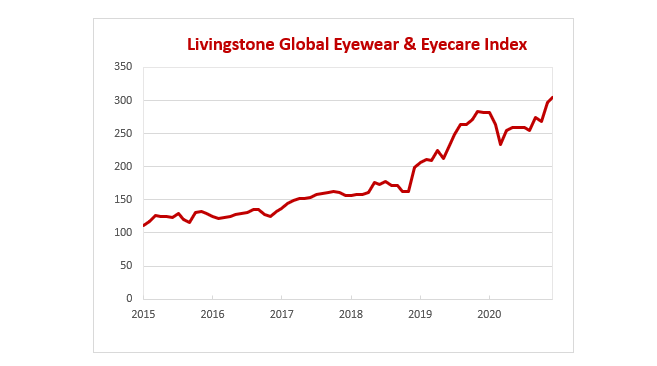 1 Included are Carl Zeiss Medtec, EssilorLuxotica, Fielmann, Gran Vision, Hoya, Inspecs, Italia Independent, JINS, National Vision, Safilo, Sunny Optical, The Cooper Companies; index is weighted and caculated on the basis of enterprise values
However, the eyewear industry also offers many attractive opportunities for investors that prefer non-public equities:
The eyewear market is far from being completely dominated by its market leaders such as Essilor Luxottica, Safilo, Marcolin, and Marchon. Instead, due to the high relevance of design and marketing, independent eyewear makers could continually build attractive market positions based on superior design and a certain creative edge for decades. 
Good examples in this respect nowadays are well-known brands such as Lindberg, Barton Perreira, Garret Leight, or Etnia Barcelona, and the former clients of Livingstone and the author IC! Berlin and MYKITA are all able to realize substantial premiums for their products. Their successes are due to the fact that their products have a story to tell and clearly set their owners apart from the masses. 
In recent years this has also created substantial private equity interest in the sector. Both the Inspecs IPO and the Eschenbach sale were private equity exits, while the MYKITA and the IC! Berlin transactions were private investor entries. 
Apart from the attractive market environment, a key driver of private equity interest in eyewear is the prospect of an attractive exit. Larger eyewear groups tend to grow by acquiring successful independent brands and reducing their dependence on licensed brands.
Technology firms are also changing the face of the eyewear industry fundamentally. Examples include vendors of face recognition and design software solutions such as Synopsys and LAMBDA, providers of 3D printing solutions such as Luxexcel and Formlabs, eyewear e-tailers such as Mister Spex and Framesdirect, supply chain solution providers such as TrueCommerce, makers of smart and adaptive glasses such as Vuzix and Everysight, among others. In particular, for growth capital investors and VCs, these firms offer exciting opportunities as they seek to scale their businesses.
Please do not hesitate to approach if you are interested in learning more about investment opportunities in eyewear and eyecare.  Livingstone is happy to help you sharpen your view on the industry.
STAY UP TO DATE WITH OUR
Newsletter